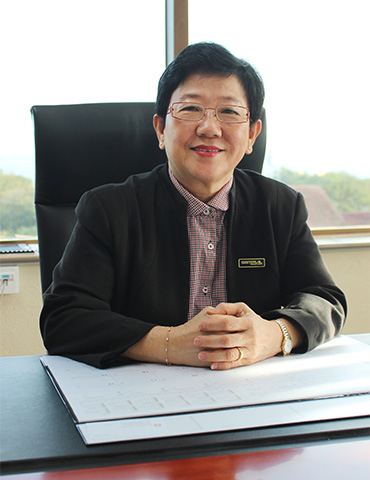 Dr.Chiang Geok Lian
SENTRAL College Penang is pleased to play a vital role in the provision of higher educational programmes to meet the varying needs of current day learners wishing to obtain globally recognised qualification in pursuit of their career goals. Since its inception in 2002, SENTRAL has grown rapidly. The College moved into its own building – the Menara SENTRAL – at the fringe of George Town's heritage enclave. It is ideally located with commanding view of the inner city and the sea and amenities are within easy reach. I would like to thank all the constituent members of the College, past and present, students and staff alike, for contributing to the success of the College that has powered the College to this great height.
SENTRAL will continue to put the learning and education needs of the students first by focusing on quality and integrity to provide the student with a body of knowledge in their chosen disciplines while providing exciting stimulus for a lifelong learning experience. There is an emerging shift from education for employment (developing the ability to do a specific job) to education for employability (developing the ability to adapt skills to new working environments). This fits well into the government's aspiration of becoming a high-income nation, which is hinged on having people who have a high sense of personal mastery and can extend their abilities to change organizational realities. All planned programmes of learning at SENTRAL are relevant, comprehensive and presented to meet the real needs of learners for the real world.
As a student steps into their education journey at SENTRAL, we coach them to choose knowledge and skills over physical comfort and idleness, to lead over being led, to be innovative and pro-active than be complacent, passive and parroting. Hence, we will remain steadfast in our founding goals – to develop students into wholesome capable individuals who will support their family, serve the community and strive for the country.